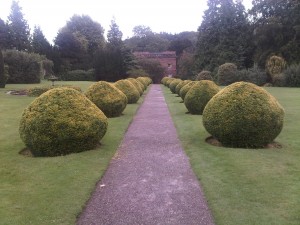 On the last day of September it seemed perfect for a day out with the family at Berrington Hall.
Visitor information – National Trust

A tour with the ranger gave us so much info and background about how the property became part of the National Trust portfolio of fabulous heritage properties so precious to Herefordshire.
Nearby is Croft Castle, offering another 1000 years of history to explore. Visitor information – National Trust
Still within a short distance is a "castellated country house in the English county of Herefordshire"  – that will be another day out for all the family.  Hampton Court Castle & Gardens
We will definitely be encouraging our visitors at Holt Farm Cottages to take some time to see all that these places have to offer both in the gardens, on the farms as well as taking in the historic house tours.
It will take more than one day to look at them all!