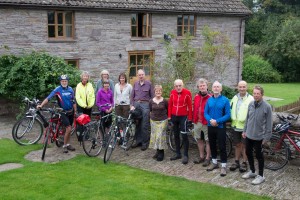 Thanks to the Cycle Somerset  group for coming to stay at Holt Farm Cottages.
The weather was perfect for your week in the hills of Herefordshire and for the tours around the Welsh Border – the Gospel Pass was quite a challenge!
Abergavenny to Hay-On-Wye | Britain's best bike rides | Travel | theguardian.com
I believe there might have been some non-cycle time in Hay-on–Wye as well!
All  that exercise and sightseeing while someone else cooked the evening meal to be shared in Holt Barn!
Thank you for the photos and hope to see you here again soon.